UPCOMING EVENTS
Carrozza Scholarship
Competition & Concert

Also on the agenda for AAA in 2015, will be the Carmen Carrozza Scholarship Competition and Memorial Concert which is tentatively scheduled for October 3-4, 2015 at the Double Tree in Tarrytown, New York. Dr. Joseph Ciccone will be chairman of this event which will include a Dinner/Concert on October 4th.


AAA Newsletter

Previous AAA Newsletters are now online under NEWS.
SPECIAL OFFER
For AAA Members and Friends
FROM THE PRESIDENT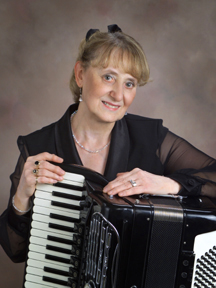 Mission Accomplished!
A festival beyond compare!
Concerts, workshops, exhibits, competitions, a $20,000 prize . . . this Festival had it all!
Here are a few quotes from attendees: "What seduces me personally is the unique warm atmosphere of fellowship; it is marvelous to find so many talented musicians that are willing to share their gift of music with everybody." "Our children are given this wonderful opportunity not only to meet other accordionists of their age and share ideas, but to be able to talk to highly qualified professional musicians and be exposed to different styles of music . . . the festival is an essential part of their musical development." "The festival finds musicians from all parts of the world that are all masters and pioneers of the music that they play; instead of watching videos and hearing recordings of these talented artists, one is able to actually see on a real stage how such impossible movements and abilities are in fact possible. These artists excited, inspired, and shocked me by shattering all past notions and beliefs I had about accordion and music in general."
Thanks to all the wonderful artists who made our Gala Concert so special – Viatscheslav Semionov, Grayson Masefield, Joe Natoli, Dr. Robert Young McMahan with cellist Cecylia Barczyk, The Accordion Pops Orchestra, the Eddie Monteiro Trio – Entertainment beyond compare.
The Thursday Luncheon featured local artists: The Potomac Ensemble directed by Joan Grauman, Robert & Rocio Ford, Mark Nejako with Nick Sungenis on violin, and Ken Kunek.
This year's Festival Orchestra conducted by Al Terzo featured music from the Movies – a great opening act for The United States Army Strolling Strings with Manny Bobenrieth on accordion. The experience was incredible. Violins dispersed between the banquet tables, creating a mystical sound all around the room, with musicians so perfectly in tune and together, it became almost unbelievable.
Let's not forget the Faithe Deffner Memorial Competition. Adjudicators Joan Cochran Sommers and Joseph Natoli awarded the $20,000 first prize to Vitaly Kondratenko from Russia, $3,000 second prize to Emmanuel Gasser of Canada, and $2,000 third prize to Rachel Quirbach from the USA. Congratulations to all.
The Elsie M. Bennett Competition Award went to 13 year old Daniel Benedetti from Canada for his composition "Spring Waltz", which he performed for the appreciative audience at the Awards Concert on Saturday.
This year's Junior Festival Orchestra conducted by President Mary Tokarski and the Youth Involvement Jazz Ensemble coordinated by Marilyn O'Neil and conducted by Bob Vitale were especially well-done – and audience-approved!
If you missed this one, you missed a lot. The workshops and exhibits added the finishing touches on the event for everyone! Next year's Festival is scheduled for July 6-10, 2016 at the Adams Mark Hotel in Buffalo, New York. Don't miss it!
AAA events coming up:
August 7-9, 2015 – "Chock Full O'Learnin'" Seminars at the Tenri Cultural Institute in New York. Workshops daily from 3-5 p.m. – Concerts every evening at 7 p.m.
October 2-4, 2015 – The Carmen Carrozza Memorial Award Competition – a weekend of musical activities highlighting the life of revered accordion artist Carmen Carrozza. It begins with an Open Meeting on Friday evening, an Exhibit of his memorabilia, and a competition where young artists will vie for $6,500 in prizes. The festivities will culminate with a Memorial Concert and Banquet Sunday afternoon – all at the Doubletree by Hilton in Tarrytown, NY – Carmen's home territory.
April 17, 2016 – Lifetime Achievement Award – Mario Tacca at the Colonial Terrace in Cortlandt Manor, NY
July 6-10, 2016 – AAA Annual Festival in Buffalo, NY
Fall 2016 – Valtaro Celebration at the Magnanini Winery, Wallkill, NY
Hope to see you there!