Welcome
Click the red link below to view the 2018 AAA Festival Daily Reports pictures and videos.
Welcome to the American Accordionists' Association (AAA) website. Here you will find information about the oldest accordion association in the United States, which is celebrating its 80th anniversary this year! The website is divided into several sections:
About – includes a brief mission statement, message from the President, names of the AAA Board members, AAA affiliations, and a link for contacting the AAA.
Events – includes links to future events, including the upcoming AAA Festival, Master Class & Concert Series, Coupe Mondiale Qualification, Elsie M. Bennett Composition Competition, and Carmen Carrozza Memorial Competition.
Publications – includes breaking news, current and previous newsletters, YouTube videos, link to AAA's Facebook page, and links to other national and international publications.
Membership – includes general membership information, membership application, and a link for contacting the AAA.
History – includes information about past presidents, champions, music commissions and events, as well as more detailed archival information.
Search – this link will enable you to search the AAA website using keywords.
We hope you enjoy navigating around the website, and we hope to see you at one of our upcoming events!
From the President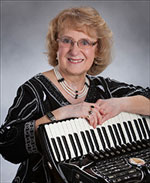 Welcome to the NEW American Accordionists' Association website. I know you will find it easy to use and informative. Thanks to Harley Jones and the Accordions Worldwide group for helping us make our website more "usable"!
Be sure to check out the "Breaking News" button . . . any time something new and exciting is introduced, it will be featured there first so you get the news right away!