UPCOMING EVENTS
July 12-16, 2017
Westin Forrestal Village
Princeton, NJ
ANNOUNCEMENTS

Carrozza Scholarship Dinner
April 30, 2017 will bring together some of our finest young artists for the Carrozza Memorial Scholarship Fund Raiser being held at
Villa Barone Hilltop Manor
466 US Route 6
Mahopac, NY 10541
Featuring our very talented young artists Gia Ciccone, Cody McSherry, Chris Gorton, Cory Pesaturo and more! Details and registration form are available on the Carrozza Scholarship Dinner page.
Elsie M. Bennett Composition Competition
The Elsie M. Bennett Composition Competition applications are now online on the Bennett Competition Events Page.
AAA Newsletter

Previous AAA Newsletters are now online under NEWS.
FROM THE PRESIDENT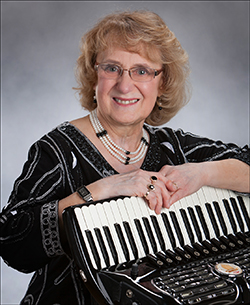 I Festival is almost here!!! If you have NOT yet made your reservations at the hotel and sent your registration forms – DO IT TODAY! There are a limited number of rooms left at our "special" rate. Check out this website for all the details and forms. Concerts and workshops to interest the experienced accordionist – AND the novice!

Come play at our Meet and Greet event on Wednesday evening, and join in the fun in the After Hours Club where everyone can have a chance to perform. Your Host for Wednesday will be Joan Grauman, Thursday will be Jamie Maschler, and Saturday you will tickle the ivories with Will Holshouser.

Don't miss the Exhibitors - accordions to check out, new music to stock up on, and all kinds of accordion novelties you can imagine . . . lots of great fun and great people to meet! Remember that competition rooms are open to everyone with your Registration fee, so be sure to catch the sounds of our truly talented young people who are competing. July 12-16, 2017 is the date, and the Westin Hotel at Forrestal Village in Princeton, NJ is the place.

The Carrozza Memorial Scholarship Fund Raiser on April 30th at Villa Barone Hilltop Manor was a fantastic event. A big thank you to our young guests Gia Ciccone and Cody McSherry for their mesmerizing performances. Cory Pesaturo, Eddie Montiero, Frank Carozza, Frank Busso, Sr., Frank Toscano, the Connecticut Accordion Orchestra conducted by Peter Peluso, and Mario Tacca and Mary Mancini dazzled attendees with music for dancing, listening and just plain great entertainment! Keep an eye out on our YouTube channel for posting of some of these outstanding performances!

Some of the funds raised from the April 30th event will be part of the $8,000 in prizes being presented to the winners of the Carmen Carrozza Memorial Competition. The competition will be at 1:30 p.m. on Thursday, July 13th at the Westin Princeton.

The Master Classes and Seminars moderated by Dr. William Schimmel are in their 23rd year! Space is limited at the Tenri Cultural Institute, so be sure to make your reservations early for "The Red Lantern Accordionists" themed event – a look into Accordion Culture - the "Champion" – and the person in last place!

Help us plan the future of the accordion by bringing your thoughts and ideas to the annual AAA Open Meeting and Farewell Breakfast on Sunday, July 16th at 9 a.m. for a great send off after the Festival.

See you there!