UPCOMING EVENTS
(stay tuned for details and
reservation information)
April 2, 2016 – Coupe Mondiale Qualifying Categories for ALL world events will take place at the MAMTG competition at the Marriott Hotel in Whippany, NJ.
Qualifying Competition Form
April 3, 2016 – Open Meeting for all AAA members. 3:00 p.m. at the Marriott Hotel in Whippany, NJ. Hope to see YOU!
April 17, 2016 –
Lifetime Achievement Award Dinner
Presented to Mario Tacca
Colonial Terrace
Cortlandt Manor, NY
Buffalo Squeeze-Fest
July 6-10, 2016
Buffalo, NY – AAA Festival
Workshops, hands-on sessions, spectacular concerts, world premiere
Competition Rules
Entry Form
Entry Summary Form
Event Order Form - coming soon
Bennett Composition Competition Open to ALL aspiring composers!


July 10, 2016 – Open Meeting for all AAA members. 9:00 a.m. at the Adams Mark Hotel in Buffalo, NY.
July 29-31, 2016 – Master Class and Workshop Series at the Tenri Cultural Institute, New York City. Workshops 3-5 p.m. and Concerts at 7:00 p.m. each day!
No Place Like Home
Dr. William Schimmel
Moderator-Curator
November 26, 2016 – A Valtaro Celebration at Magnanini Winery in Wallkill, NY – great food, great music, great fun. Be sure to join us!


Announcements

Watch for the "Grand Opening" of the AAA YouTube Channel – coming soon! Recent winners from the Deffner and Carrozza Competitions will be featured.
More Prizes!! The Elsie M. Bennett Composition Competition announces $250 cash awards for the winning composers in the competition. Entry Forms available on the Bennett Competition Events Page.
AAA Newsletter

Previous AAA Newsletters are now online under NEWS.
SPECIAL OFFER
For AAA Members and Friends
FROM THE PRESIDENT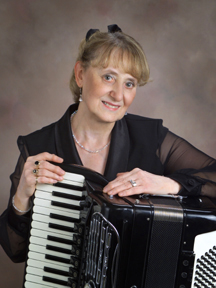 Happy Holidays – and a happy and healthy New Year to everyone!
January marks the completion of my first year as President of AAA. It has been an exciting year for me. Stressful at the start, with the passing of my husband Frank . . . but with the help of my accordion friends, the transition has been successful!
We have made great strides in setting up our events for the next year – all of which will be announced early in January, so you can plan to attend every one! We count on your support for these events . . . without YOU there is no organization! Your opinion matters too, so please be sure to email any brilliant ideas you may have to the AAA account at ameraccord1938@gmail.com.
Our Board of Directors has been working hard to bring AAA into our electronic world, and 2016 will be the start of the AAA YouTube Channel. Keep your eyes open for the announcement of our opening date! There will be lots of exciting information and performances there for you to peruse.
Thank you for your help in keeping the accordion alive and well in the 21st century . . . I look forward to seeing you at ALL our events for 2016 – and beyond – moving ahead into the "Accordion Frontier"!!
NEW ANNOUNCEMENT for Buffalo Festival:
Save the Dates on your calendar - July 6-10, 2016. The AAA will be gathering in beautiful Buffalo, NY (Niagara Falls) at the Adams Mark Hotel in downtown Buffalo. Our guest artists will include Grayson Masefield (New Zealand), Cory Pesaturo (Rhode Island), Ginny Mac (Texas), Alexander Sevastian (Toronto) and the Quartetto Gelato (Toronto). Guy Klusevcek will premiere his new commissioned work for accordion too – you don't want to miss this!
All our artists will have special presentations for you, and even lots of "hands on" workshops and sessions. There are great things in the works. Titles of the sessions will be posted soon, so keep a lookout on the website for the details.
Hotel rooms (single, double, triple or quad) are $127. The reservation desk can be reached at 716-845-5100. Be sure to mention "AAA".
Buffalo is one of the richest cities in the U.S. – boasting the title of "Art Deco" City. Be sure to include the Air Bus and Architectural Tours in your "things to do" while visiting Buffalo. We will, of course, include a visit to beautiful Niagara Falls, and a trip on the Maid of the Mist will be available for our guests.
See you in Buffalo!!