Attention Festival Competitors
Festival 2021 Competition Categories will be virtual this year.
Rules, Regulations and Entry Forms will be included with the next Newsletter and are here online.
Download: 2021Rules.pdf 2021Entry.pdf
Categories will include all the Open and Standard Categories you have seen in the past with the ADDITION of the new AAA Honors Categories.
Performance Requirements for the Honors Categories will include one piece from a Required Music List for the age category selected, along with a Choice Selection of classical, open or original music for accordion (no pop, ethnic or jazz).
1st, 2nd and 3rd places will be awarded along with a cash award for 1st place in each division.
Looking forward to seeing you virtually.
Required Music List for Honors Categories:
Must perform ONE of the pieces indicated below, plus one Choice Piece of classical, open or original music for accordion – no pop, ethnic or jazz is allowed. All music is available for purchase through ernestdeffner.com by clicking the "Click Here for Music for the AAA Festival" text in the slider window – or at the following link: https://ernestdeffner.com/shop-online/music-method-books/americanaccordionistsassoc-83.html
Category
Music Title
Composer
Juniorette (up to 9):
Velocity
Carousel
Ferraro
Sayer
Junior (up to 12):
Autumn Breezes
Sea Breeze
Frosini
Cere
Intermediate (up to 15):
Cascade
Tail Spin
Carrozza
Frosini
Senior (16 & over):
Pioneer Concerto
Four Nocturnes,
Ettore
Bennett
Virtuoso (up to 32):
Omaggio A Pietro
Remembering A Legend
Partita
Frosini
Schimmel
Tcherepnin
Adult (no age) restrictions:
Tranquillo Overture,
Prelude & Scherzo
Rondo Movement from Concerto in E
Deiro
Ettore
Deiro
AAA Festival 2022
July 13-17, 2022, Marriott Philadelphia West, 111 Crawford Ave, Conshohocken, PA 19428. By Joan Grauman, AAA Historian.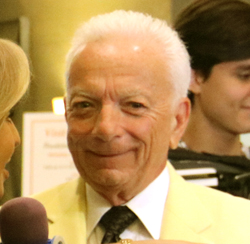 Save the dates. Frank Busso, Sr. to receive the AAA Lifetime Achievement Award at the AAA Festival 2022
I am sure I speak for all when I say that accordionists cannot wait to get back together, in person, again SOON!! The members of the AAA Governing Board are no exception.
As we are enthusiastically planning the 2022 AAA Festival, we are very excited to announce that the AAA will be honoring long-time AAA Board member, Frank Busso, Sr., at this event with the 2022 AAA Lifetime Achievement Award.
Frank has faithfully served the AAA as Treasurer, Vice-President, President (1981, 1992-94), and has also chaired many committees including the annual national festivals, and the Young Artists Concert Series. He held the position of the Comptroller of the AAA for many years. For decades, Frank has been an educator, performer, conductor and all-around ambassador of the accordion.
View the feature article from the 2017 AAA Festival Journal now online at: "Spotlight on Frank Busso". It is an enjoyable, heartwarming and enlightening biography of a man whose life revolved around his love of the accordion, the national accordion community, and his family.
You might ask, "What has happened since 2017?" One delightful bit of news: Frank's twin granddaughters, Julianna and Francesca, are now studying the accordion with their father, Frank Busso, Jr. All of the Busso grandchildren are now accordionists! Let's hope we can hear the "Busso Octet" perform for us at the 2022 AAA Festival!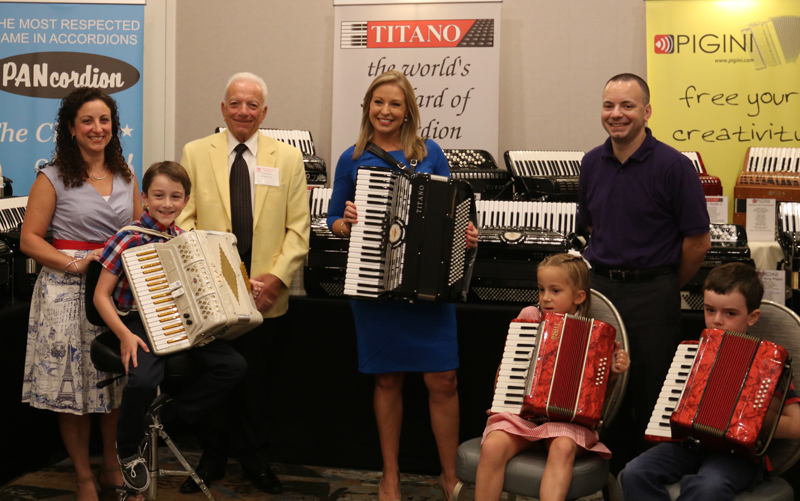 L to R: Christina Busso Lammers, Alexander Lammers, Frank Busso, Sr., TV reporter from Washington, DC, Caroline Lammers, Frank Busso, Jr., and Nicholas Busso at the 2018 AAA Festival, Alexandria, VA.
AAA Festival 2021 Canceled
It is with great disappointment that due to the current situation concerning the world pandemic (Covid 19) the AAA Executive Board and Board of Directors have made the necessary decision to cancel the AAA Festival July 14-18, 2021 in West Philadelphia.
We are committed to public safety, including that of our many loyal attendees, guests and performing artists and to help support our nation's strong efforts to help control the spread of COVID-19, we join a long list of events that have already been cancelled. Although the pandemic has changed our lives in so many ways, we always find a silver lining.
Look for AAA's new digital ventures through online lectures, seminars, concerts competitions, and the AAA Lifetime Achievement Award ceremony/concert honoring Linda Solely Reed. It will make it easy for us to communicate without missing a beat.
There's a wonderful world on Zoom waiting for you! We are looking forward to seeing all our fellow accordionists online. Be safe, stay well and keep the faith!
Happy Holidays to All.
Joseph Ciccone, President of the AAA