AAA Festival July 12-16, 2023
Join the AAA for our 85th anniversary in-person celebration this summer!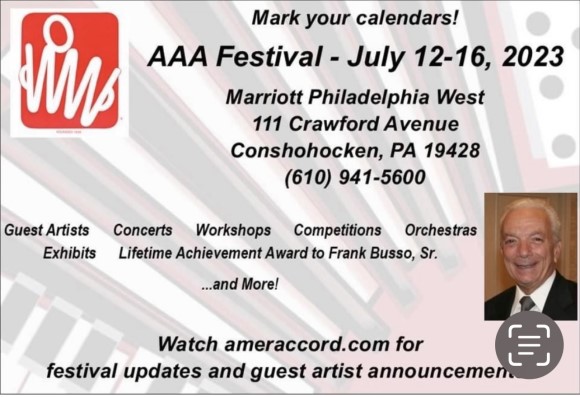 Join us live to help celebrate the 85th anniversary of the American Accordionists' Association! The AAA festival will be held at the Marriott Philadelphia West in Conshohocken, PA, July 12-16, 2023.
Download the schedule: 2023AAASchedule.pdf
Download the Registration Form: 2023AAARegistration.pdf
Online registration and online payment by credit card or Paypal is now available on the AAA website shopping basket http://www.ameraccord.com/cart.aspx OR post in a check with the above 2023 Registration Form.
Visit https://www.marriott.com/events/start.mi?id=1678315148565&key=GRP to book your hotel room today!
After two years of virtual competition, we are excited to return to live competitions for students of all ages and abilities! Solos, duets, ensembles, and bands. Download the full list of categories, competition rules, and entry forms at: 2023AAARules.pdf and 2023AAAEntry.pdf
Download 2023 AAA Festival Invitation to Advertise Package: 2023AAA-Advertiser.pdf
Download 2023 AAA Festival Exhibitor Invitation Package: 2023AAA-Exhibitor.pdf
We are sure we speak for all when we say accordionists cannot wait to get back together - in person! - to celebrate our beloved instrument. And speaking of accordions, make sure you bring yours along to play in the 2023 Festival Orchestra led by world-renowned conductor, Joan Cochran Sommers!
Grayson Masefield (New Zealand) will will join us for performances and workshops. Very personable and well-spoken, Grayson has won and been laureate at over a dozen international accordion competitions around the world in classical, entertainment, and digital categories. He is currently the instrumental music teacher for accordion at the University of Auckland, New Zealand.
Another special guest performer will be accordion legend Joey Miskulin (USA). Inducted into the Country Music Hall of Fame in 2018 for his extraordinary accomplishments with the piano accordion, and a recent recipient of the AAA's Lifetime Achievement Award, Joey continues to delight listeners with his "flying fingers" and ability to engage audiences.
Looking for even more entertainment? Look no further than Mario Tacca, past AAA champion and AAA Artist in Residence, who will perform as a soloist at Friday night's gala concert, and with famed vocalist Mary Mancini at our Thursday night dinner.
Several accordion orchestras are already slated to perform, including the Accordion Pops Orchestra conducted by Al Terzo, the Westmont Philharmonia Accordion Orchestra conducted by Joanna Darrow, and the Busso Festival Orchestra conducted by Frank Busso Jr.
Conducting this year's Youth Orchestra will be Joanna Darrow who has dedicated her entire life to performing, teaching and promoting the accordion. She has performed several times with the Philadelphia Orchestra, and performed all over Europe, for over 30 years, with her accordion teacher/husband, the late Stanley Darrow.
The United States Air Force Strolling Strings, with AAA President Frank Busso Jr. on accordion, will perform at our Saturday night banquet. Also at the banquet, we will present our coveted Lifetime Achievement Award to longtime AAA Board member Frank Busso Sr. Frank has been an educator, performer, conductor, and all-around ambassador of the accordion for decades.
Keep checking www.ameraccord.com for announcements of additional performers, workshop presenters, events, and registration information!
To read more about Joan Cochran Sommers, Frank Busso Sr., Joey Miskulin, and to learn more about the events that led to the formation of the AAA, please see the articles listed below. For many other articles of AAA History, go to the navigation above "History" then "Articles AAA History".
Article #1 — AAA-Formation.htm What events led to the formation of the AAA?
Article #9 — "Spotlight on Frank Busso Sr."
Article #18 - Joey Miskulin
Article #25 - Prof. Joan Cochran Sommers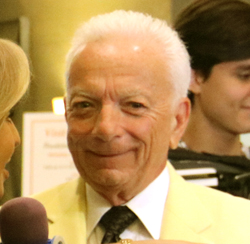 Frank Busso, Sr. to receive the AAA Lifetime Achievement Award at the AAA Festival 2023.
By Joan Grauman, AAA Historian.
I am sure I speak for all when I say that accordionists cannot wait to get back together, in person, again SOON!! The members of the AAA Governing Board are no exception.
As we are enthusiastically planning the 2023 AAA Festival, we are very excited to announce that the AAA will be honoring long-time AAA Board member, Frank Busso, Sr., at this event with the 2023 AAA Lifetime Achievement Award.
Frank has faithfully served the AAA as Treasurer, Vice-President, President (1981, 1992-94), and has also chaired many committees including the annual national festivals, and the Young Artists Concert Series. He held the position of the Comptroller of the AAA for many years. For decades, Frank has been an educator, performer, conductor and all-around ambassador of the accordion.
View the feature article from the 2017 AAA Festival Journal now online at: "Spotlight on Frank Busso". It is an enjoyable, heartwarming and enlightening biography of a man whose life revolved around his love of the accordion, the national accordion community, and his family.
You might ask, "What has happened since 2017?" One delightful bit of news: Frank's twin granddaughters, Julianna and Francesca, are now studying the accordion with their father, Frank Busso, Jr. All of the Busso grandchildren are now accordionists! Let's hope we can hear the "Busso Octet" perform for us at the 2023 AAA Festival!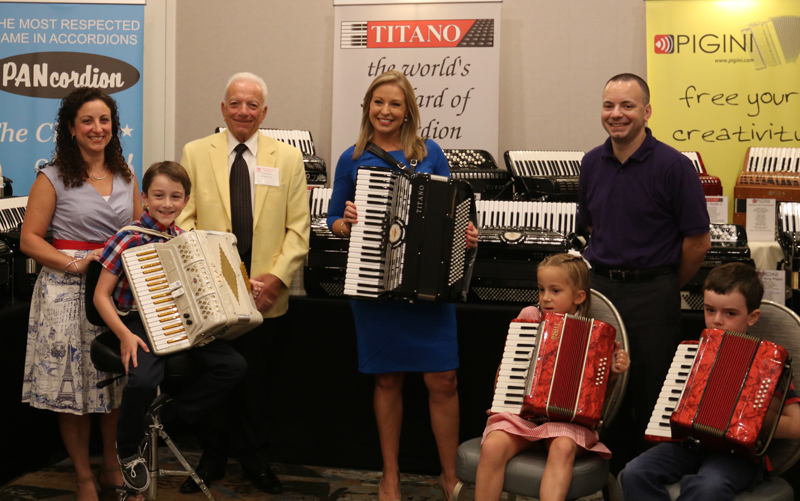 L to R: Christina Busso Lammers, Alexander Lammers, Frank Busso, Sr., TV reporter from Washington, DC, Caroline Lammers, Frank Busso, Jr., and Nicholas Busso at the 2018 AAA Festival, Alexandria, VA.