AAA Shopping Cart
Payment by PayPal or using a credit card.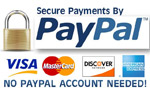 The AAA shopping basket links to the high security eCommerce site run by PayPal. No PayPal account needed. Client credit card and debit card details are not transmitted outside. PayPal processes millions of payments every day, for every type of business, securely and quickly.
Please make your selection from the Product List below, add quantity and click the "buy" yellow button. This will then list that selection in "Your Shopping Cart" area below the Product List. Items can be removed from "Your Shopping Cart" if necessary.
Mobile phone users should use landscape (wide) view.
2023 Festival
Please click on the product you are interested in below to view additional information.
Sunday Afternoon Accordion Celebration! Sunday, September 10, 2023 - 12:00 noon
- Event ticket includes buffet dinner, 2 bottles of wine per table, entertainment, & dancing. Details on flier. Price per person:
@ USD 85.00

New Member OR Annual Dues
- Associate Membership or Affiliated Organization:
@ USD 35.00

- Professional Membership (Full Membership) or Certified Teacher:
@ USD 65.00

- Student Membership:
@ USD 20.00

Donations - please make a donation to one or more of the categories below:
- Carrozza Scholarship:
USD .00

- Composers Commissioning:
USD .00

- Annual Festival & Competition Prizes:
USD .00

- Youth Programs:
USD .00

- AAA General Fund:
USD .00

Your Shopping Cart
Postage & Packing
No postage & packing needed.
Summary
| | |
| --- | --- |
| Items: | USD 0.00 |
| Postage & Packing: | USD 0.00 |
| Total order: | USD 0.00 |
Please be sure to fill out the entire form on PayPal.