Breaking News
The AAA Banquet is sold out!
Absolutely no more reservations can be accepted! Check at the AAA Registration table at the Festival after Wednesday, July 11th for any cancellations.
Next Open Meeting - Sunday, July 15, 2018, 9:00 AM
Farewell Breakfast and Open Meeting for all members and AAA Festival participants at the Holiday Inn Hotel and Suites, 625 First Street, Alexandria, VA 22314. See you there!
Carrozza Scholarship Dinner - Sunday, September 9, 2018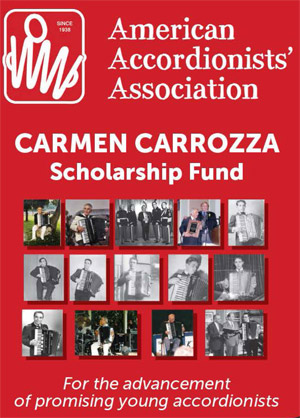 Famme Furlane of NA Club
2010 127th Street
College Point, NY 11356
Cocktail Hour: 12 noon – 1:00 p.m., entertainment by Don Gerundo
Dinner and Dancing: 1:00 – 3:00 p.m., entertainment by Mario Tacca with Mary Mancini, Phil Battiston, Drummer
Concert: 3:00 p.m. featuring Serbian accordion virtuoso, Petar Maric
$65 per person: includes Antipasto • Pasta • Salad • Filet Mignon & Shrimp • Potato and Vegetable • Dessert & Coffee. Two bottles of wine for each table included!
Download flyer:
2018 Carrozza Flyer
Send Reservations by 9/1/18 to:
Dr. Joseph Ciccone
2 Gramatan Avenue, Suite 206
Mt Vernon, NY 10550.
Cell: 914-224-1241
email:
Drjciccone@aol.com