Breaking News
Rita Davdison Barnea is the New AAA Secretary
At the May 10, 2022 AAA Board meeting, Rita Davidson Barnea, was appointed the Secretary of the AAA. The position was open due to the resignation of Rachel Quirbach for personal reasons.
Rita has been a member of the AAA Board since 2001. Additionally, for over 14 years, Rita has served as the National Editor of http://www.accordionusa.com, covering accordion events, artists, concerts, etc. which take place on the North American continent. Rita welcomes accordion news, photos, and information for the USA News. Email her at: ritabelll@aol.com She presents workshops and concerts on the
"Life and Music of Eugene Ettore"
"The Use of the Accordion in the Teaching of Music in School", and
"How to Organize a Children's Birthday Party"
centered around the use of the accordion. Rita has also performed in recitals, concerts, workshops, and at accordion festivals throughout the US.
Rita retired from a 30 year career as a public school music teacher in West Orange, New Jersey where she used her accordion every day in the classroom and as an accompaniment for concerts and programs. Her principals appreciated her portability as a music teacher where classes were conducted in the cafeteria, outdoors, and on upper floors in the building. Her red accordion covered in stickers was loved by her students who all wanted to carry it for her from class to class!
Rita continues to be involved in interesting accordion activities: Rita had the opportunity to perform with the New Jersey Intergenerational Orchestra at the United Nations several years ago in New York City where she premiered New Zealand composer, Gary Daverne's "Concert Waltz for Accordion and Strings." She also performed Eugene Ettore's "Manhattan Concerto" with two symphony orchestras. Rita said, "I feel very honored that I was given the opportunity to perform his concerto with an orchestra. I have always felt that his music is orchestral in nature, not only bringing out the unique characteristics of the accordion, but also demonstrating that his compositions definitely lend themselves to orchestral arrangements. This is something that I would like to see happen in the future."
Eugene Ettore was one of the first proponents of the use of the "Power of Positive Thinking" with his students. While preparing for competitions or concerts, he would teach me techniques of relaxation and focus by the use of several powerful statements to be said before performance. Here are two of them:
1. I play with confidence, determination, and accuracy.
2. I recollect easily and at will. (This statement also applied in taking tests in school,)
I found these statement/mantras to be extremely helpful in reducing anxiety and assisting in total focus on learning and performance. I use them even today.
Rita, as National Editor of www.accordionusa.com for almost 15 years shares these fascinating statistics:
Rita has produced over 175 monthly issues of www.accordionusa.com
Her 14 plus years as editor includes over 5,250 individual articles.
With 175 publications and about 70,000 page views per month, that equals 12,250,000 page views over 14 years since Rita began serving as Editor.
Rita is the creator and curator of the Eugene Ettore Memorial Website, which contains photos, articles, and other valuable information about Eugene Ettore, prominent accordionist and composer. It also contains links to her performances, pdf's of his music, and information on how to obtain his compositions. http://www.accordions.com/memorials/mem/ettore_eugene/
Her "Music of Eugene Ettore" album is now a free download at:
http://www.musicforaccordion.com/eTracks/inform/davidson/index.htm
For further information: ritabelll@aol.com
The 2022 AAA Festival has been postponed until 2023
Attention Festival Competitors
Festival 2022 Competition Categories will be virtual this year. Information at: festival.php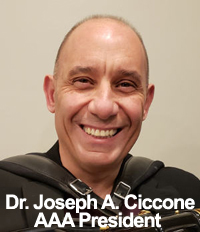 Due to the AAA's commitment to the health and safety of our many loyal attendees and guest artists, and to help support our nation's efforts to stem the spread of COVID-19, our AAA Governing Board had to make a difficult decision. The 2022 AAA Festival has been postponed and will be rescheduled, along with the AAA Lifetime Achievement Award Dinner in honor of Frank Busso,Sr., for the summer of 2023. More information will follow shortly.
Please visit our website: www.ameraccord.com often for updates and to view new articles and information that gets posted regularly. Stay tuned for information on upcoming virtual workshops, on the 2022 Virtual Competitions, the Elsie Bennett Composition Competition and the Carrozza Competition.
Thank you for your understanding and continued support of the AAA! Stay safe and keep practicing!!
Sincerely,
Dr. Joseph A. Ciccone
AAA President
Frank Busso, Sr. to receive the AAA Lifetime Achievement Award at 2023 AAA Festival
Information
AAA Newsletters
Due to the corona-virus, it has been a challenge to mail the AAA Newsletters, so they will be published online. See: AAA Newsletters
AAA Festival 2021 Canceled
Click here for further information.
Passing of Leonard R. "Skeets" Langley
"Skeets" Langley, passed away in his sleep at his home in Maricopa, Arizona on Tuesday, November 17th, 2020.
Obituary at:
http://www.accordionusa.com/#art4322
Passing of Rose-Marie Bruno Coppola
Rose-Marie Bruno Coppola passed away the night of November 28, 2020 after bravely battling a long illness.
Obituary at:
Passing of Rose-Marie Bruno Coppola
2021 Elsie M. Bennett Composition Competition for Composers
2021 Competition Information, Awards, Regulations and Entry Form
now released
.