Memorials
Click on the names below to see more.
PAST PRESIDENTS

Maddalena Belfiore Greco
Carmen Carrozza
Faithe Deffner
Carmelo Pino
BOARD MEMBERS
Dr. Salvatore Febbraio

ADVISORY COUNCIL
Aldo J. DeRossi

FOUNDING MEMBERS
Remembering Charles Nunzio
Maddalena Belfiore Greco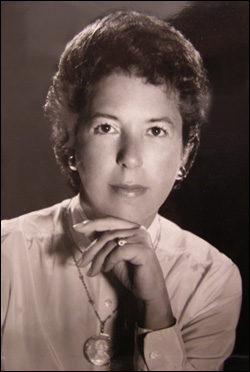 Maddalena Belfiore Greco was born in Kearny, New Jersey, and graduated from Queen of Peace High School in Kearny receiving First Honors. She began her accordion studies at the age of five and at age 11 became a protégé of Pietro Frosini. She began musical studies at Juilliard School of Music at age 13 studying theory, harmony, conducting, composition and also attended Columbia University.
Maddalena composed accordion method books and technical books on bellow shakes and appeared in concerts throughout the United States, Canada and Europe as well as in Carnegie Hall, New York. She also performed with the New Jersey Symphony Orchestra and was an adjudicator for numerous international and national music competitions.
Maddalena was founder and director of the Arcari Foundation, founder, past president and director of the Accordion Teachers Association of New Jersey, and officer of the American Accordionists' Association since 1964, three times president of that organization and at present was Executive Secretary of the AAA and director organizer of all AAA competitions. She instituted the Young Artists Concerts at Carnegie Hall presenting AAA National Winners. A first vice president of the Confederation International des Accordeonistes since 1974, Maddalena was an AAA delegate to the CIA since 1971, an AAA delegate to the National Music Council since 1975 and a member of the All-Arts Society of New York.
Her awards and distinctions are numerous. In 1976 Maddalena was the recipient of the International Golden Lady Award, in 1977 and 1978 she was presented the Outstanding Achievement Award from the state of Massachusetts and Rhode Island respectively. She received the Goldn Record Award from the City of Nashville, Tennessee in 1980 and was also "Woman of the Year" (1980) for the State of New Jersey. That same year, Maddalena was selected as a member of the panel for US Life and the Family in Washington, DC.
Maddalena was the owner and director of the Belfiore Acccordion Studio in Kearny, NJ since 1958 and also a professor of accordion at Fairleigh Dickinson University. In addition, she authored numerous publications including First Steps in Bellow Shake, Frosini System of the Bellow Shake, 12 Sons in Bellows Shake, solo pieces including Cavalier Waltz, Valse Diane and Pan Polka. Through her long-time association with Myron Floren, she co-authored and edited the Myron Floren Method Book, Let's Play Duets and the Showstopper Series.
Carmen Carrozza
Carmen Carrozza (1921-2013) was born in a small town Solano in Calabria, Italy on July 20, 1921. Carrozza emigrated to the USA with his family when he was nine years old. The Family settled in the town of Chappaqua in Westchester, NY, where Carrozza soon began studying music, becoming proficient on the violin, piano and accordion. It wasn't long before his love for the accordion became obvious and he found himself concentrating solely on mastering this instrument and master it he did! Although the piano accordion was developed around the turn of the century in 1909, it was stated by one of Carrozza's early professors that "the accordion wasn't given birth until the young Carrozza placed his hands on the instrument."
In 1937, he graduated from the Pietro Deiro Accordion Conservatory in Greenwich Village, NYC where he was awarded the highest honors and a gold medal for his performance. He furthered his studies at the New York Academy of Music specializing in theory, harmony, counterpoint and composition. Carrozza's professional debut took place in 1947 at the Philadelphia Academy of Music launching what was to be one of the greatest careers of the century. He went on to triumph with appearances throughout the concert halls in the United States ? (Carnegie Hall, Town Hall, Times Hall, Lincoln Center, Kennedy Center Music Hall, Philadelphia Academy of Music, just to name a few) Canada, and Europe - (France, Germany, England, Sweden, Finland, Russia and Italy). Carrozza was presented with a gold medal by the E.A.L., an agency of the Italian Government, after an outstanding performance at the Theatro di Pavia.
Carrozza was the first accordionist invited to perform as featured soloist with major symphony orchestras: The Boston Pops Symphony Orchestra under the direction of Arthur Fiedler premiering Paul Creston's Concerto for Accordion and Orchestra; National Symphony and New York Philharmonic under the direction of Andre Kostelznetz, premiering Alan Hovanhess' Rubaiyat; Cincinnati Orchestra, under the direction of Thomas Schippers; The Buffalo Symphony Orchestra, The Baltimore Symphony Orchestra, The Philadelphia Pops Orchestra, The United States Navy Band, and the list goes on and on. A legendary composer, arranger and world renown concert artist and educator, Carrozza has been a true inspiration to humanity.
Carrozza's success on the concert stage was matched only by his contribution to the development of accordion literature. In this area, he has collaborated with outstanding American composers: Robert Russell Bennett, Henry Cowell, Paul Creston, Alan Havanhess, George Kleinsinger, Otto Leuing, Paul Pisk, Wallingord Riegger, Elie Seigmeister, William Grant Still, Carlos Surinach, Virgil Thompson, & Russian composer, Alexander Tcherepnin.
Carrozza considered solo concerts in Town Hall, New York City, as one of the high points in his career. At these concerts, he performed and premiered all original accordion works by the forementioned composers. It was a milestone in the history of the accordion. His performances of the works of these composers opened a new field for the generations of accordionists to follow and gives to composers a new instrument to use as a vehicle of musical expression. Concert accordionists of the future owe a debt of gratitude to Maestro Carrozza for paving the way for them to the concert platform.
Throughout the years Carrozza received numerous awards and honorees from many different organizations, associations and clubs. On March 17, 2002 Maestro Carrozza was honored by the American Accordionists Association and was the first recipient presented with the prestigious"Lifetime Achievement Award". Shortly after this gala event, The Carmen Carrozza Scholarship Fund, (a fund for the advancement of promising young accordionists and the commissioning of new works for the accordion) began in the spring of 2002.
Carrozza was past president and a governing board member of the American Accordion Association (AAA), a national organization dedicated to the development of the accordion. He continued to promote the accordion through educational workshops at schools, universities and private music studios.
Carrozza displayed a smooth, effortless technique and together with his musical virtuosity and brisk personality on stage he was placed somewhere on the scale between unbelievable and incredible. He made the accordion an instrument of remarkable beauty and made his performances an experience in artistic majesty. Much has been written about the unique artistry of Maestro Carrozza and much more surely will be written in the future, but one critic apparently established for all times Carrozza's esteemed position in the world of the concert accordionist when he proclaimed, "the violin has its Pagannini, the piano its Chopin – the accordion its Carrozza" - So be it!
Carmen Carrozza passed away on June 17, 2013. Until his death, he resided in Thornwood, New York with his wife Jean. He had two grown children, Carmen and Marianne.
Faithe Deffner
Faithe Deffner, 83, of East Williston, NY, and Boynton Beach, FL, born in Worcester, Massachusetts; deceased June 3, 2014, in Florida. She was predeceased by her parents, her brother Yale Weisblatt, and husband, Ernest Deffner. She is survived by her daughter, Verne Deffner Leven Uvezian, sister-in-law, Florence Weisblatt, nephew, Gary Weisblatt, nieces Wendy Warwick and Terry Gross, and friend of long-standing, Angelica Bargou. Private burial services were held Friday, June 6, at Beth Israel Memorial Chapel in Boynton Beach, FL. Interment was at Beth David Cemetery in Hollywood, FL.
Faithe Deffner's life was marked by the brilliance of her accomplishments in manifold directions that improved the accordion industry and its popularity, as enabled by her profound intelligence. Despite gender prejudices and jealousies, she rose to world prominence as influential spokesperson on behalf of the instrument family and its players, was known for manufacture of fine accordions and ethical business acumen, was respected for her eloquence and her breadth of insights. With legendary foresight, she strove ceaselessly to enhance the social impact of her industry. With unstinting energy, often against personal interests, she gave of herself in associations that shared her ideals. She was a whole and integrated personality, able to unite life-experiences into the goal-filled path that mention of her name elicits.
Only summarized here, details of her life and work can be found in 15,000 citations on the internet, most notably at www.accordions.com/fdeffner.
Faithe was introduced to music in an Orthodox Jewish family that supported youthful violin studies. Later, she studied accordion with Billy Costa and accordion construction as a by-product of opportunity. Decades later, in 1978, she supplemented her experiences by joining with Lindy Baumgarten, past president of Canadian Accordion Teachers' Association, to form their New York studio called Keyboard Study Center. Their students won many top awards in national competitions. Faithe's incredible intellect absorbed evaluative criteria that positioned her among the driving forces of the American Accordionists' Association and Accordion Teachers Guild.
Her education in journalism and advertising at University of Missouri School of Journalism lead to formation of her own advertising company in Manhattan which lead to her work for the Ernest Deffner Company, established in 1934 as distributor of multifarious musical instruments. She became acquainted with accordions and eventually influenced the company to focus exclusively on the accordion industry. A then-waning field, her marketing insights led to effective campaigns that brought it new life. Their Italian-made Crucianelli, Video, and Panitalia instruments satisfied thousands of studios while the excellent American hand-made Pancordions appealed to artist professionals of national renown like Lawrence Welk, Myron Floren, Maddalena Belfiore among many others.
Ernest and Faithe formed an exceptionally close team with complimentary skills and compatible personalities. Her marriage to Ernest produced, in 1953, their only child, daughter Verne, who was periodically involved in the firm's business activities. Around 1960, Angelica Bargou became a trusted life-long friend to the family. Faithe took over increased administrative duties as her husband's health declined because of a terminal illness that resulted in his death in 1971. She mourned his loss the rest of her life.
Faithe came into her own as the first female head of a major accordion manufacturer when she assumed the company's presidency. She brought the firm to international prominence, renamed it Ernest Deffner, Inc., and while acquiring other interests as a US government contractor, as Ernest Deffner Affiliates. Along the way, Faithe broke ground for acceptance of women of accomplishment. It was not an easy path in male-dominated fields. Her ability to persuade or failing that, to subvert objections, probably strengthened her resolve to accomplish any goals she undertook.
She recognized brilliance, worked with people of exceptional qualities, and formed solid friendships with those she respected. For example, she worked closely with the great educator-artists Dr. Willard Palmer and Bill Hughes, whose teaching skills developed in their large Houston, TX, studio. The Palmer-Hughes Accordion Course provided students a methodology and repertory that was appealing as well as pedagogically sound, which in turn enhanced public appreciation for the players' instruments.
Faithe constantly worked to improve the lines of her accordions through the decades. The free-bass converter system for the Titano accordion models was easy to learn and caught on like wildfire. Simultaneously, Palmer's exceptional teaching had developed advanced students that deserved university status. Thanks to the union of teacher and instrument, the University of Houston (headed by Willard Palmer) and the University of Missouri Kansas City (headed by Professor Joan Cochran Sommers) admitted accordionists into the music major program. In wider circles, Titano accordions became the standard and were played by more national champions than all other brands combined. They were performance instruments for artists such as Robert Davine, Dr. Carmelo Pino, Pauline Oliveros, Joan Cochran Sommers and many others.
Always attuned to popular trends, Faithe collaborated with Palmer in construction of the Titano Tiger, a 17", amplified, lightweight accordion with quint reeds that would speak through the raucous sounds of rock bands. Its back-slated keyboard was ideal for standing players; its keyboard color-reversal of black and white keys and its brightly colored body offered eye-appeal to both players and audiences. She also produced a similar model colored black, the Pancordion Combo, for orchestral use.
Aware of the need for printed materials, Faithe added another division, Ernest Deffner Publications. When the market for O. Pagani and Pietro Deiro music publications declined and the companies closed, she included their stock in her offerings. Her inventory maintained slow-selling 20th century concert compositions and provided new or little-known composers the recognition of publication. Eventually the available titles numbered 6,000. In the late 1970s, she engaged the firm to produce a high-level magazine called "Accord" in which she was named as editor but in fact did most of the writing.
Neglecting her personal or business interests was not uncommon when it came to contributing to the work of worthy organizations. For this she received many honors among which she particularly valued those listed next. She was named honorary vice president of the Accordion Federation of North America. For more than 30 years she was a USA delegate to the Confédération Internationale des Accordéonistes, sponsors of Coupe Mondiale. In 2000, the CIA presented her their Merit Award which added her name to world luminaries. As a long-standing member of the Accordion Teachers Guild (now renamed Accordionists and Teachers Guild International), she assumed the post of vice president and served as member of the governing board. A 15-year member of the board of directors, A World of Accordions Museum named her "Friend of the Museum" and Emerita in 2002.
Faithe's association with A World of Accordions Museum actually began before it had a name, rather, when it was still subsidiary to Accordion and Concertina Repair Technicians' School, begun in 1991 and reorganized in 1993. Although initially skeptical, after her first in-person viewing she was impressed by the breadth of the 750 displays that students studied and appreciated the repair curriculum that resulted in her hiring a graduate, Chad Walker, as head repair person for her accordion companies. She visited several times to participate in special events, notably the 1999 Charles Magnante concerts celebrating acquisition of his musical estate. Behind the scenes, she had persuaded Magnante's son, Dr. Peter Magnante, to make this donation. She saw the building's overcrowded conditions and encouraged relocation to a larger facility. When several properties were under consideration, she toured them with me to offer her advice. In the new Harrington ARTS Center (ARTS being acronym for the repair school), the main foci were on the by-then 1,000 instruments that created AWAM's name and the magnificent concert hall in which they and many world-renowned performers would sound. Again behind the scenes, Faithe's friend Helen Miller had been encouraged to make a large donation. Separate large rooms were designated for library holdings of accordion reference books, recordings and music. Dozens of scholars have used these resources in research for books and documentaries. In time, the AAA Archival Collection was installed as a public face for the organization to show its social import. In 2002, she pushed to hold the AAA Festival in Minnesota and to include a day-trip to the museum. As expected, the publicity was front-page, but more significantly, accordionists were awed by their instruments' noble heritages. Despite conventional prejudices against free-reed predecessors, she was the first national figure to recognize the importance of accordion history and all the genera of their taxonomy. She urged Dr. Carmelo Pino's presidency to affiliate AWAM with the AAA, which was celebrated during the museum's formal reopening in 2004. In subsequent years, Faithe was responsible for several of the many major acquisitions that added credibility to the institution. The museum is currently outfitting a room named "The Deffner Legacy" in her honor.
Without question, Faithe's principal affiliation was with the American Accordionists' Association. She wholeheartedly threw herself into their projects despite the time consumption that was nothing short of altruistic. She encouraged their 1985 competition be held in Orlando, FL, where a massed band appearance at Disney World provided fun for participants and public visibility. An incomparable fund-raiser while always seeking new ways to further popular acclaim for the instrument, she envisioned and organized the 1986 Fantasy Cruise to Bermuda in which 700 participants massed in on-deck performance. Thousands of press kits had been distributed to the media which responded with reports of an accordion "renaissance" that included pop bands and fringe music. In 1987, the "Keyboard" magazine cover followed up proclaiming "Accordion power" as "rock's new main squeeze." In 1988, her campaign raised $30,000 for AAA's international competition that drew 29 entrants from 10 countries. In 1995, she initiated the first Accordion Summit Meeting to discuss the expanding role of accordions in modern music. The meeting drew national speakers. It was considered a great dissemination of thoughts and experiences which had the expected by-product of positive publicity. Also in 1995, she planned the Houston, TX, AAA festival to honor her friend Dr. Willard Palmer who was in failing health yet accepted the invitation. Many of the University of Houston's Accordion Symphony Orchestra participated to resound one of his arrangements and his composition "Ombo." It was his last public appearance.
1996 was named the year of the accordion. The AAA focus was on renewing accordionists' enthusiasm for their instrument. They could not have chosen a more popular figure for festival honors--Myron Floren, whose weekly appearances on Lawrence Welk's 27-year television show made the "Happy Norwegian" America's most sought-after entertainer.
In 2005, the AAA hosted another innovative step inspired by Faithe—a search to find "the" new accordion "star" performing pieces of modern-pop appeal in an attempt to bring more young people to the instrument. Financed by her friend, Steve Stolaruk, the campaign named "The Hottest," offered significant cash awards along with other benefits to promote accordion careers of the three top winners.
Faithe decided to retire around 2007. She sold Ernest Deffner Affiliates to Frank Busso, Jr., son of her dear friends, Carmela and Frank Busso, Sr. Frank (Sr.) and Faithe worked closely together for many years in organizing AAA events.
When asked about a memorial for her years of AAA service, Faithe requested a commissioned work for piano accordion from Russian composer, Sofia Gubaidulina. This wish could not be fulfilled, so in 2005 she personally commissioned Viatcheslav Semionov's three-movement masterpiece, "Divertimento." It was premiered at the AAA Festival in New York in 2005 and repeated throughout his nationwide concert tour.
In recognition of her years of service and her status as president of the organization in 1985-86, 1995-2000, the AAA presented her with a "Lifetime Achievement Award" in an elaborate 2009 banquet at New York City's Tavern on the Green, attended by national and international figures. Surrounded by dear friends and respected associates she heard her legendary accomplishments extolled as she was presented with the esteemed "President Emerita" recognition by the American Accordionists' Association.
On a personal note: Faithe asked me to write her obituary during an October, 2010 conversation, saying that she hoped it would not be needed for a long time because she still had many things to complete. It was an unexpected honor I took with utmost seriousness wrought from deep affection and esteem. I knew it would be a difficult task to summarize her life so filled with accomplishments. With new eyes, I began to reread everything I found written by and about her; to rethink our years of conversations, letters and emails; to listen differently when associates mentioned her name. Without fail I noticed a tone of respect and often the assumption of friendship. However, her polished, professional façade and articulate speech could also disaffect, obscuring the depth of her heart. Only occasionally did a glimmer of hesitation encroach on her stolid, determined bearing. Look again at photos of the young woman to see that she fostered a dichotomy between professionalism and her self-assessed intrinsic romanticism. Against any obstacles, she stood with her friends and defended their interests.
It has become trite to speak of celebrating a life when in reality we mourn its loss. There will be many who write about Faithe, uncounted others who will quietly acknowledge her influence, myriads who will never know her impact on their lives, and a world-wide public who bid farewell to this giant of our time. She used her passion to achieve what four people might not equal. Her presence is irreplaceable and loss of her brilliant intellect leaves us all reduced. Many have set out to improve the accordion world, but she did it with aplomb.
A memorial service will be held July 13, 2014 hosted by Angelica Bargou, following the American Accordionists' Association Festival, at the Double Tree by Hilton Hotel in Tarrytown, NY.
Dr. Helmi Harrington
CARMELO PINO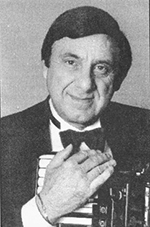 By Joan Grauman, AAA Historian
With contributions by Stella Allison, Tomasczek Bednarek, Manny Bobenrieth, Faithe Deffner, Dr. Helmi Harrington, Linda Soley Reed and Joan Singer.
This is a tribute to my treasured friend and accordion teacher, Dr. Carmelo Pino. Although I studied with Carmelo for only one year, what I gained from his guidance is immeasurable. He molded me into a better musician and a more confident teacher, while keeping me entertained with his delightful humor and with fascinating stories of his life as a celebrated accordionist and composer.
The Early Years
Carmelo Pino, Jr. was born in the coal mining town of Kilsyth, West Virginia on October 25, 1934. Kilsyth was a small, picturesque community of predominately Italian immigrants. The youngest of five children, Carmelo's earliest memories are of a very happy, nurturing home filled with music. His father played guitar, one brother played the clarinet, the other played violin, and his two sisters sang in harmony.
The community held weekly dances where his family would play and sing with other local musicians. The young Carmelo would sit at his father's feet absorbing the sounds of the guitar as he watched, with fascination, the band's accordionist. As a toddler blessed with a beautiful voice, Carmelo was encouraged to sing with the band, and later as a soloist in his elementary school.
In 1943, Carmelo's father, no longer able to work in the mines due to black lung disease, moved the family to Washington, DC, where he worked in the Navy Yard. Carmelo, now nine years old, began studying the accordion with Columbo Rotelli, a close friend of the Pino family. Carmelo immediately took to the accordion.
He remembers his first recital very well. He had been studying for about eight months and had prepared a recital piece. Two days before the recital, he was given the sheet music for Tico Tico. When Carmelo arrived at the studio, he asked if he could play Tico Tico as his recital piece.
A shocked Mr. Rotelli pointed out to Carmelo that he didn't even bring his sheet music. "I have it memorized", said the young boy. Carmelo played Tico Tico flawlessly at the recital, . (Note: He has been performing Tico Tico ever since that memorable day. In 2006, he recorded his brilliant, playful arrangement, Tico Tico with an Attitude with a quintet on his CD, "Carmelo, Celebrating the Accordion".
By the end of the first year of his accordion studies, Carmelo had decided that he would pursue music as his career. Before long, his musical skills had exceeded those of his teacher. Mr. Rotelli, amazed at his student's talents and creativity, continued to coach Carmelo until he could, as Rotelli encouraged, "study in New York with Charles Magnante".
In 1947, when Carmelo was 13 years old, an 18-year old accordionist, named Dick Contino, won first place in the "Horace Heidt/Philip Morris Talent Contest", which was broadcast live on national radio from Fresno, California. Carmelo's family was glued to the radio when it was time for Contino to play. Dick Contino's skills motivated young accordionists all over the country. Carmelo was no exception. It was an exciting day when Contino took the grand prize of $5000 in the finals that were held in Washington, DC on December 12, 1948. Months later, Contino was back in Washington performing at the Capitol Theatre. Carmelo's sister, Penny, took her young brother to this concert to see his "musical idol", an event that Carmelo still vividly recalls as one of the highlights of his childhood.
College Years at the Biviano Studio
A stellar student and athlete, as well as a fine musician, Carmelo received a full scholarship to Columbia University in New York City at age 17. Charles Magnante was no longer accepting private students, so he recommended that Carmelo study with his brother-in-law, the distinguished accordionist, Joe Biviano.
Biviano was an innovative, motivating teacher, a fine soloist, and a "mover and shaker" in the accordion world. He founded the first accordion orchestra, the "Accordion Symphony Society of New York", was one of the founders of the American Accordionists' Association in 1938 (as was Charles Magnante), and was staff accordionist for several of the major broadcasting companies.
Carmelo thrived at the Biviano studio. A strict teacher, Biviano - whom Carmelo describes as his "musical godfather" - required his students to practice four hours daily, which Carmelo did while taking 18 credit hours and working daily in his fraternity's kitchen at Columbia. The atmosphere at the Biviano studio on 48th Street in Manhattan was pure magic in Carmelo's eyes, as it was always filled with students and fine musicians from as far as Canada.
It was here that he met Charles Magnante and other well-known accordionists who regularly played for CBS, ABC, NBC, and in Broadway productions. Carmelo befriended Tony Mecca, an excellent musician and fellow student of Biviano's. Tony, the concertmaster, and Carmelo shared a music stand for many years in Joe Biviano's "Accordion Symphony Society of New York", performing regularly to packed houses in the famous New York City Town Hall.
In his fourth year at Columbia University, Carmelo took a course in music composition. He loved it, and this course, taught by famous modern composer, Otto Luening, changed his life.
He began to compose modern music for the accordion. Carmelo's first composition, Canto Scherzando, composed in October 1955, a challenging, bright piece in 3/4 time, was chosen by Charles Magnante as the AAA test piece for the U.S. virtuoso championship in the spring of 1956.
Johnny LaPadula won that year and went on to win the 1956 Coupe Mondiale. Carmelo premiered Canto Scherzando at Mount Saint Vincent College in New York earlier that year. Shortly thereafter, Carmelo composed Sonata No. 1, subsequently renamed Sonata Moderne. This was the first sonata written for the accordion.
Late 1950s to 1965
Within a week of his graduating with a special commendation in music from Columbia, Carmelo accepted a commission as an officer in the U.S. Navy, a position he held for two years. During this time, he continued to compose accordion music. He realized the importance of creating serious music for the accordion, because, in Carmelo's words (quoted from an article he wrote at age 23 for the publication, Accordion and Guitar World), "... no matter how technically perfect an instrument may be, it will artistically be worth only what the music being performed is worth, since the music is the vehicle by which the instrument displays its expressive ability."
Theresa Costello of O. Pagani Publishers recognized the young composer's talents and went to work publishing and promoting his "modern compositions". O. Pagani featured Carmelo in half-page advertisements in the Accordion and Guitar World magazine, published by John Gerstner, in the late 1950s.
Carmelo returned to the Washington, DC area at the end of his Naval commission and opened his music school, "Carmelo Pino's Biviano School of Music" in Silver Spring, Maryland. While raising a family, he taught accordion, conducted accordion ensembles, composed and arranged, and joined the celebrated "Gene Donati Orchestra", playing at events from weddings to the White House. During his 45-year tenure with the Donati orchestra, he performed for every president from Lyndon B. Johnson to George W. Bush.
In 1964, Carmelo, along with his good friends and fellow accordion teachers, Lou Coppola and Rose-Marie Coppola, founded the Accordion Association of Metropolitan Washington (AAMW). As its first president, Carmelo encouraged the organization to bring in guest performers, such as Art Van Damme, Maddalena Belfiore, Charles Magnante, and Julie Kasprzyk (Cardona), and to sponsor local competitions for the area's students. This was a thriving organization for many years. In 1978, members of AAMW included 24 accordion teachers from Maryland, Virginia, and Washington, DC.
In 1965, the AAA's publication, Accordion Horizons, featured Carmelo in its section called, "Conning the 'Pros'":
The United States can be proud of its young generation of accordionists. One of her finest is Carmelo Pino. Carmelo, who is not only active as a composer and instrumentalist (performing both as a soloist and member of the Accordion Symphony Society of N.Y.), is the director of the Biviano School of Music in Washington, D.C. Mr. Pino has just completed a series of performances with the National Symphony Orchestra. On March 26th, 28th, and 29th, Mr. Pino performed with the opera "Natalia Petrovna," an opera in two acts. The program, presented by the Opera Society of Washington, was heard at the Lisner Auditorium, George Washington University.
Concert Accordionist with Symphony Orchestras
From the early 1960s through 2007, Carmelo played with the National Symphony Orchestra, as well as with many other well-known orchestras, as a soloist, with ensembles, and as an accompanist to famous singers such as Kiri Te Kanawa, Ute Lemper, and the beloved Three Tenors (Jose Carreras, Placido Domingo and Luciano Pavarotti). One of Carmelo's proudest moments was when, after the concert with the Three Tenors, Pavarotti was leaving the stage and paused to put his hand on Carmelo's shoulder. As he faced the audience, there was roaring applause. Carmelo had been chosen for the Three Tenors performance by Pavarotti after a series of successful solo performances in which Carmelo accompanied the famous tenor.
Alzheimer's! The mere mention of the word conjures up hopelessness and despair. If you have a parent, family member or friend who has been diagnosed with Alzheimer's Disease, you need to develop one thing….Patience!
An individual who has been diagnosed with Alzheimer's has no control over the fact that they may repeat things over and over, forget who you are or worse, get lost when they venture out on their own. Although the disease was described in 1906 by German physician, Alois Alzheimer, there is still much to learn about the disease, how to cope with the Alzheimer patient and what medications might be helpful.
In 1986, my dad was diagnosed with Alzheimer's. There were no known treatments at that time, nor was there any way to diagnose the condition until the patient passed and a brain autopsy was performed. When my dad left us in 1987, it was not because of Alzheimer's but other complications.
I did consent to a brain autopsy at that time to assist in the research. He did not have Alzheimer's, but he did have dementia brought on by depression due to the loss of a spouse and a debilitating injury which curtailed his activity to do what he liked best - work.
Whatever the reasons, Alzheimer's or any form of dementia is difficult for any of us to comprehend and the stress for the caregiver is unimaginable. To see a vibrant man like Carmelo reduced to living in a care facility, dependent on others for his day-to-day care, is heartbreaking.
I miss the man who was Carmelo Pino, friend, artist, teacher, composer.
Linda Soley Reed, AAA President
Board Members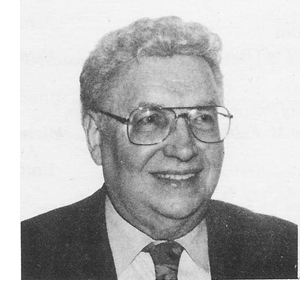 Remembering Dr. Salvatore Febbraio
AAA Governing Board Member
Chairman Faithe Deffner - Lifetime Achievement Award Dinner
Member of the Carrozza Scholarship Committee
Chairman of the AAA Nominating Committee
Dr. Salvatore M. Febbraio of Mt. Vernon passed away at home on November 27, 2010, after a courageous fourteen years battle with prostate cancer, surrounded by his loving family.
Dr. Febbraio was born April 30, 1935 in Mt. Vernon to Gaetano and Else Febbraio.
Dr. Febbraio attended local schools, pursued his career at Julliard and the Manhattan School of Music, Fordham Graduate School and NYU Graduate School; where he earned many degrees including his Ph.D and M.M.Ed. He was the founder and executive director of the Febbraio School of Music since 1956. Over the years he shared his gift by influencing many students to go on to a musical career and influenced many in their appreciation of music. Many former students recall his wonderful teaching ability in music and life experiences. He was very influential in numerous civic affairs one being on the Mayor's Senior Citizens Advisory Board; where he played at the first Advisory Board Luncheon and continued this performance for 64 years. He was also past president and present member of the board.
He is survived by his loving wife Antoinette Aurichio Febbraio, who he married on December 2, 1956, two devoted sons Guy Anthony Febbraio, Gregg M. Febbraio and his daughter in-law Brigitte, three grandchildren Nicole, Monique and Gregg S. Uncle of Lisa Gabrielli and Thomas and David Febbraio. His faithful caregiver Olga. Predeceased by his brother Thomas.
Donations may be made to either:
1. Prostate Cancer Program at Memorial Sloan-Kettering Cancer Center, 1275 York Ave, NY 10065, 866-815-9501 email:developm@mskcc.org
2. Calvary Hospice, 1740 Eastchester Rd., Bronx, NY 10461, 718518-2077 email:avalitutto@calvaryhospital.org avalitutto@calvaryhospital.org
3. Progressive Supranuclear Palsy Foundation, CurePSP, Executive Plaza III, 11350 McCormick Rd, Suite 906, Hunt Valley, MD 21031, 800457-4777 https://give.psp.org/
Advisory Council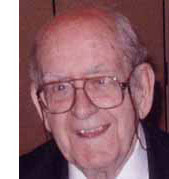 Remembering Aldo J. DeRossi
Aldo J. DeRossi, 93, of Fairhaven died Tuesday November 30, 2010 at home. He was the husband of Ida M. (Pires) DeRossi; they had been married for 65 years.
Born in Springfield, the son of the late Emil and Julia (Laurenti) DeRossi, he moved to New Bedford at the age of three. He lived in New Bedford for most of his life before moving to Fairhaven.
Aldo took up playing the accordion in his teens and became an accomplished performer, composer, and teacher. In 1939, he opened DeRossi Accordion School in Downtown New Bedford. The school was expanded to include other instruments in the 1970s.
Over the years, thousands of DeRossi Music School students performed and competed in state and national competitions, winning their first national title in 1949 in New York City. This was followed by over 200 national and state band and solo championships. Over the years, Mr. DeRossi's students performed at a variety of venues which included Carnegie Hall, Constitution Hall in Washington, D.C., the New York World's Fair, and the American Accordion Association National Championship held at the Springfield Civic Center where they achieved the only "perfect" score ever given to a band in any national accordion competition.
In addition to being a successful accordion teacher, Mr. DeRossi was also a noted composer. He composed over ten original compositions, many of which have been used as required competition pieces in states across the country. These include "Trickling Keys" which sold over a million copies and the "Whaling City Concerto" which he composed in 1992 in honor of the City of New Bedford.
In addition to playing, composing, and teaching, Mr. DeRossi was the founder of the Accordion Teachers Association of Massachusetts, an organization that is still very active today and which sponsors the annual New England Music Competiton and Festival. He received a "Lifetime Achievement Award" from the American Accordion Association, and had been honored by placement in the World of Accordions Hall of Fame in Superior, Wisconsin.
He is survived by his wife; two sons, Steven A. DeRossi and his wife Catherine, and Barry J. DeRossi and his wife Judy; five grandchildren, Dr. Scott S. DeRossi and his wife Dr. Katherine Ciarrocca, Attorney Gina L. DeRossi and her husband Attorney Darren I. Goldberg, Kim Walecka and her husband Dr. Kevin Walecka, Todd M. DeRossi, and Jennifer daCosta and her husband Jason daCosta; five great-grandchildren, Noah Goldberg, Sofia and Evie DeRossi, and Benjamin and Lucas daCosta; and a niece, Joan Axtell Anderson.
He was the brother of the late Teresa Axtell.
Founding Members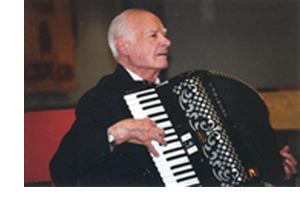 Remembering Charles Nunzio
Charles Nunzio, 97, of Basking Ridge died on October 19, 2010. Born in Sicily, he came to the U.S. at the age of 8 where his parents settled in Newark. He became a world-famous accordionist, teacher, composer, and arranger. He had a music studio in Newark and later in Nutley where he trained many champion accordionists who became successful professional artists.
He made his debut in a recital at Town Hall in 1933, and an appearance in Carnegie Hall the following year. In 1938 Charles Nunzio became a founding Board member of the American Accordionists Association along with Pietro Frosini, Abe Goldman, Sydney Dawson, Anthony Galla-Rini, Charles Magnante, Pietro Deiro, Gene Von Hallberg, Joe Biviano, John Gart, Sam Roland and Byron Streep.
In the late 1930's he was doing an average of 35 radio shows a week on WOR, NBC, CBS and making commercial recordings for Decca, Victor, and Columbia. His 40-piece accordion orchestra won first prize at the 1939 New York World's Fair. He also performed with Guy Lombardo, Rudy Vallee, Meyer Davis and Lester Lanin.
During WW II he enlisted in the US Navy, where he played on coast-to-coast programs with the "Blue Jackets". Later, stationed at Bunker Hill Naval Air Station, Peru, Indiana, he assembled a six-piece orchestra, the "Melody Mates." They played three radio broadcasts weekly and all the dances for the Navy personnel.
A consummate performer, he received many awards, one of which summarized his 70-year career: "Presented to The Legendary Charles Nunzio in recognition of your contributions in developing the accordion's American Evolution as artist, teacher, composer, and innovator and as an inspiring idol to so many accordionists. The impact of your contributions will forever be felt."
He was predeceased by his wife Helen (Vitiello) Nunzio and is survived by two sons, John of Montville and Charles of Nutley, many nieces and nephews and long-time companion Jean Garzione of Basking Ridge.