Message from the President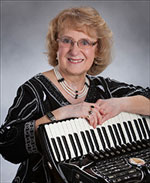 Welcome to the NEW American Accordionists' Association website. I know you will find it easy to use and informative. Thanks to Harley Jones and the Accordions Worldwide group for helping us make our website more "usable"!
Be sure to check out the "Breaking News" button . . . any time something new and exciting is introduced, it will be featured there first so you get the news right away!
Festival is coming up in Alexandria, Virginia from July 11-15, 2018 and looks like it will be a celebration to outdo all others! Check out the list of stars for our concerts and workshops . . . you don't want to miss this one.
If you haven't made your hotel reservations, be sure to do it soon . . . the hotel will not accept reservations at our special rate after June 11th . . . so HURRY!
See you in Alexandria! Have a great Spring.

Mary J. Tokarski