Past News
2021 AAA Virtual Competition Results
by Joan Grauman, AAA Historian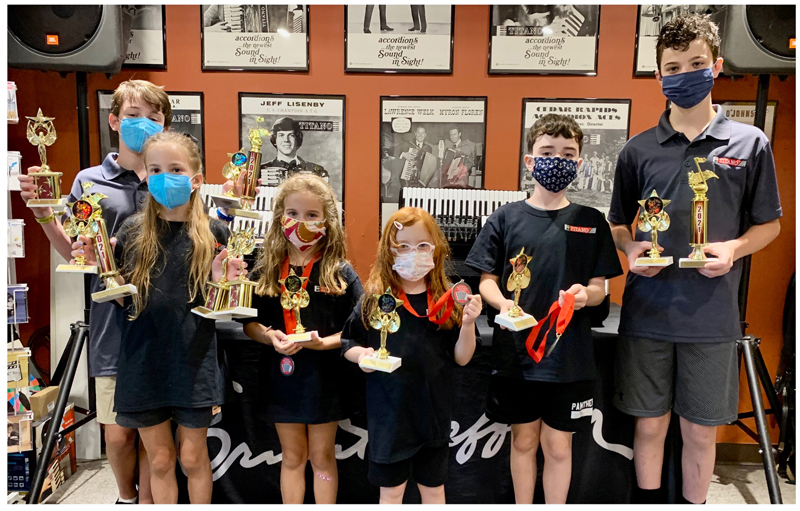 L to R: Alex and Caroline Lammers, Francesca, Julianna and Nicholas Busso, Max Hoffmann — all students of Frank Busso, Jr.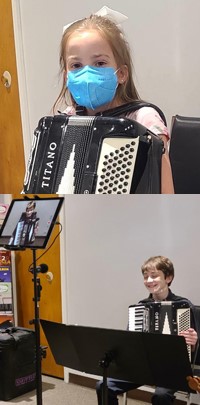 Even though the 2021 AAA Festival had to be cancelled, Mary Tokarski took on the heartfelt, arduous task of seeing to it that our accordionists, young and old, would have an opportunity to compete virtually. Thanks to immense assistance from computer guru Mike Silvia, the competition was a success!
There were rules for selections to be played for Standard elementary and Intermediate categories, for Open Juniorette through adult categories, and for Ethnic, Pop, Jazz, Honors and Entertainment categories. Results of competition below.
Photos Right:
Caroline Lammers, Juniorette Honors category winner
Alexander Lammers, Junior Honors category winner
Thank you to all who participated! We hope to see everyone back competing in person at the AAA 2022 Festival in Pennsylvania, July 13-17! Janice Lavoie, 1st place winner of the Adult Honors Category, said it well. "I was very excited to enter the Adult Honors category when it was offered this year. It was reminiscent of my teen years, when I had to play test and choice pieces for my state championship. I found it more nerve-wracking having to submit a video as opposed to playing in front of a judge. I truly miss live performance, and look forward to when I am able to participate live again!"

Contestants: Janice Lavoie, Mike Silvia, Pamela Tom, Kaisu Lankinen
This year's prize money was generously donated by The Mary and Frank Tokarski Musical Arts Fund. This fund, managed by The Community Foundation for Greater New Haven (Connecticut) was established in 2018. It was created by former AAA President Mary Tokarski to honor her late husband Frank, who lovingly supported her music through the decades, and for her to give young people the ability to "experience the enrichment and the joy that comes from making music."
North Haven High School students and American Accordionists' Association (AAA) youth members can apply for a scholarship or for funds to attend music conferences or competitions, "whatever they feel is going to improve their musical quality or skill." The AAA thanks you, Mary, for this beautiful, ongoing legacy!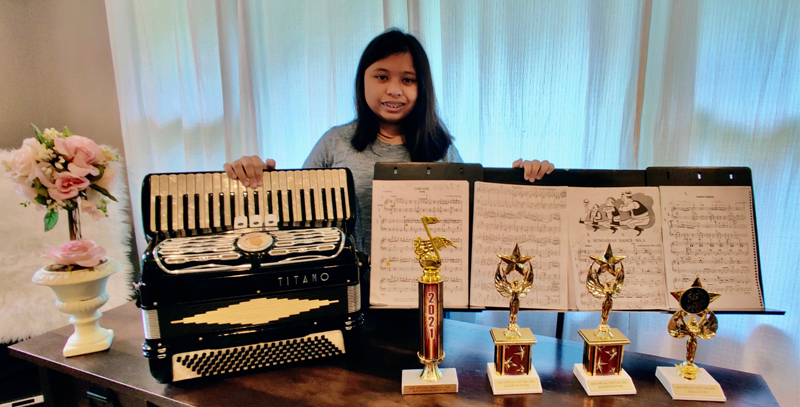 Gia Ciccone, student of Mario Tacca